Profile by Sanford Health
New Journey apps allowed Profile to sell more services, adding an estimated $3 million to their bottom line.
Services Provided:
Strategic Consultation
iOS Development
Android Development
Staff Augmentation
About
Profile by Sanford is a personalized nutrition, activity, and lifestyle coaching program designed to help members lose weight - and keep it off - by teaming them up with their own health coach who has the skills that best match their needs.
Challenge
Profile was working with mobile apps built using Xamarin, a cross-platform tool where code is written once then deployed to both iOS and Android, for nearly 7 years. The apps regularly didn't function as Profile and its membership base wanted them to and averaged well under 3-star reviews on the App Store and Google Play Store.
To create a better mobile experience for their members, Profile needed full-time development resources to redesign the apps natively for iOS and Android.
"We did a poor job of maintaining the apps and keeping them current," said Eric Aasheim, Chief Technology Officer of Profile by Sanford Health. "It was bad, and we knew it. We let them sit long enough that it wasn't worth fixing, and we knew we had to start from scratch with a clean slate for our membership base."
Eric is a developer by trade and responsible for the technology stack and development projects at Profile by Sanford. Without a technical team on staff fluent in custom mobile app development, Eric decided early on to augment his team, knowing that a dedicated, outsourced team with proven mobile app expertise was critical to the project's success.
"One thing I didn't want was a marketing firm that could do mobile app development. The majority of the people out there, that's what they are. A lot of those firms don't do native app development, which you can get away with, it's just not the way apps were designed to be built. We wanted a team whose primary focus was native app development, and that's all they did and what they were good at."
Eric felt the Sioux Falls community where Profile is based didn't have a lot of strong mobile resources dedicated to native app development, so he scoured the internet for mobile app agencies in the upper Midwest.
After speaking with several development agencies in the Twin Cities, Profile partnered with JMG to augment their technical team and develop custom iOS and Android apps for its members. Eric landed on JMG based on the knowledge conveyed, overall friendliness, and ability to ease into their team.
"We were able to give JMG some ideas and get suggestions from them on best practices as it pertains to iOS and Android apps, which they were very knowledgeable in. We gave the JMG team some mockups of how we felt the screen should look, and they came back to us with recommendations on icon placement or buttons based on Apple's guidelines."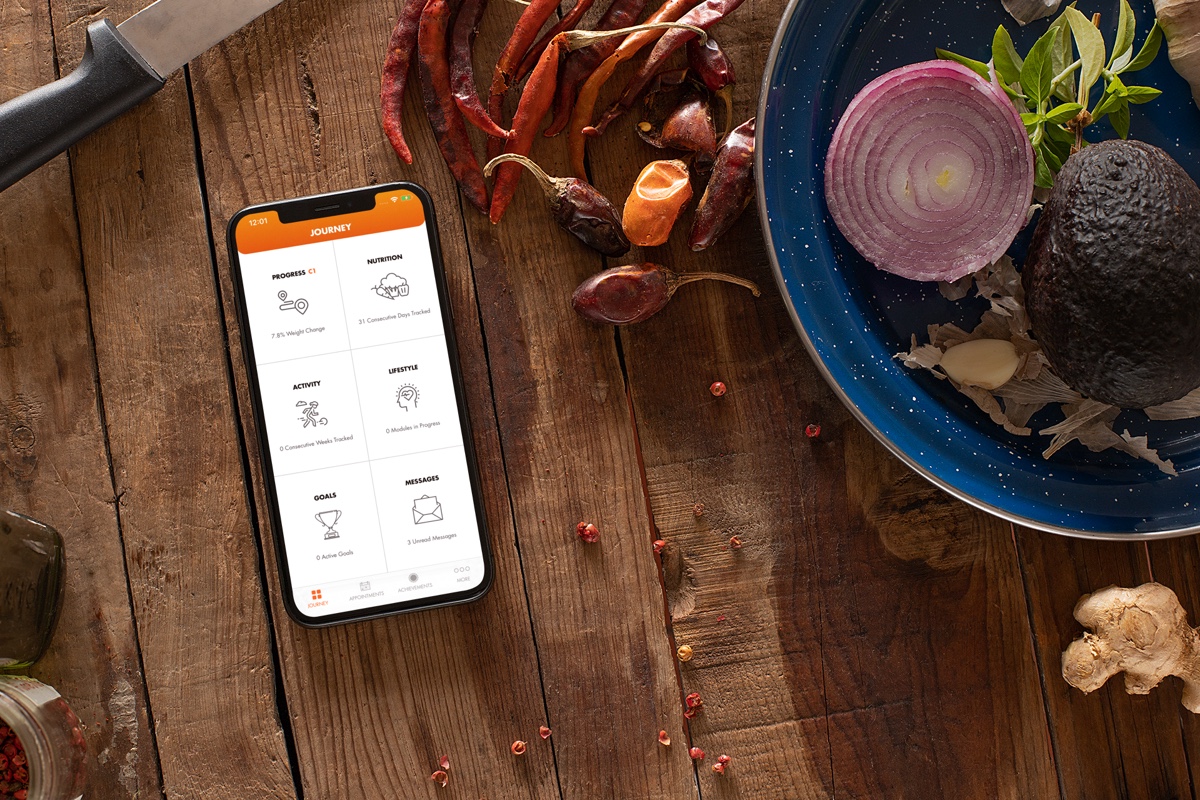 Solution
Acting as a remote part of Profile's team, we developed a custom mobile app called Journey for both iOS and Android. The Journey App provides members the convenience of their personalized healthy weight loss plan when and where they need it. Giving them the power to schedule coaching appointments, set reminders, track progress and more, it helps take the stress and overthinking out of weight loss.
We consulted on niche features specific to developing mobile apps, providing guidance on areas such as push notifications, deployment to each app store, and distributing builds to testers.
When new firmware using Bluetooth Low Energy commands struggled to connect members' scales to their correct WiFi signal, we wrote code which allowed the scale to communicate directly with the app via Bluetooth without members needing to enter their WiFi credentials.
"Each of our members get a WiFi-connected scale that takes their weight and biometric impedance to compute their body fat percentage, muscle mass, all those sorts of things, but there's no interface on the scale that allows users to easily connect it to WiFi," said Aasheim. "The JMG team was able to build functionality into the app that allows it to talk to the scale via Bluetooth connection and pass over the WiFi router's information, linking to the WiFi signal the user wants to use and allowing the scale to get on the user's home network to send the weight readings up to our server automatically. The scales didn't come with a step-by-step user guide on how to configure them, and JMG was instrumental in suggesting Bluetooth as an alternative."
Even with a roughly 250 mile stretch of farmland between Profile's HQ in Sioux Falls and JMG's office in Minneapolis, communication and collaboration were effortless.
"For a while we were holding daily meetings with the JMG team, our web team, and our project management team here at Profile. The JMG team was always extremely responsive, always on the calls when we needed them to be. They maintained good knowledge of where the developers were as far as the tasks they were working on."
Results
With communication between coaches and members now seamlessly facilitated, the app has allowed Profile to sell more services, adding an estimated $3 million to their bottom line.
Beyond the impact to revenue, Profile's metrics for measuring success were achieving an average user rating above 4 stars in both the App Store and Google Play Store, as well as positive feedback from its membership base.
"We're well above where we wanted to be right now," said Aasheim. "Overall, the feedback we're getting from our membership base on the usability of the app, the features, and overall quality has been really, really good. We've been extremely happy with it. It's lightyears ahead of where we came from in terms of visual appearance, the feature set, and the performance and speed of the app."
"The JMG team has been very pleasant to work with. They're very upfront, whether it was project costs or questions or issues. We'd look to JMG for future projects and will continue to use them for ongoing maintenance of the apps they've created at this point, no hesitation there, and no hesitation to recommend them to someone else either."