Green Mill
Delivering a quality user experience for one of the Midwest's largest pizza chains
Services Provided:
Strategic Consultation
iOS Development
Android Development
About
The Green Mill app for the legendary pizza and restaurant chain founded in Minnesota allows customers to browse the menus of Green Mill's 19 locations and place online orders for take-out or delivery.
Challenge
Green Mill worked with their longtime IT partner to develop an app using Xamarin, a tool used for cross-platform mobile app development. The app's functionality was buggy and difficult to use for the average user. Green Mill initially approached JMG to fix the functionality issues they were experiencing.
"We were working with antiquated software on the server side," said John Hinz, Chief Marketing Officer of Hightop Hospitality. "I had never built an app before, and JMG took a lot of time to understand our software and break it down and explain it to me. Over time, they've continually enhanced it by bringing ideas to me and implementing ideas I've brought to them. That's the genesis of us working together."
Since Xamarin is a platform we don't work with at JMG, we first started by trying to solve the surface-level problem by finding a different vendor who could solve their immediate problem. We reached out to a handful of agencies, but ultimately we were unable to find a vendor who we felt was able to deliver a world-class solution.
Our willingness to help Green Mill find a vendor led to their Chief Marketing Officer asking our opinion of what their next step should be. Our answer: rebuild the apps from scratch using native frameworks for each platform.
"They know what they're doing, and they really like what they're doing, which is important. The references they showed me, I was impressed by. Over time, we've built a great relationship with great rapport. I've learned a lot from them, and it's become a really strong partnership."
Solution
Aligning with Green Mill's focus of providing the best restaurant experience, we focused on creating the best mobile app experience for their customers.
With limited resources and documentation from Green Mill's original backend provider, we reverse-engineered the app and reconstructed it from scratch, building out native iOS and Android apps to expand the brand's take-out and delivery services for its 19 locations.
With credit card processing and managing the online ordering process across 19 restaurants with different menus and specials, we had our work cut out for us.
"Development was complex with a lot of restaurants and a lot of menu items, and JMG was more than capable of dealing with a complicated development structure," said Hinz. "Their responsiveness was very quick, and their communication style concise, making it easy to work with them. If there was an issue, they dealt with it right away."
Since its launch, we continue to provide ongoing support and lead efforts to improve the app with features like push notifications for marketing and building out a backend for supporting rewards and coupons.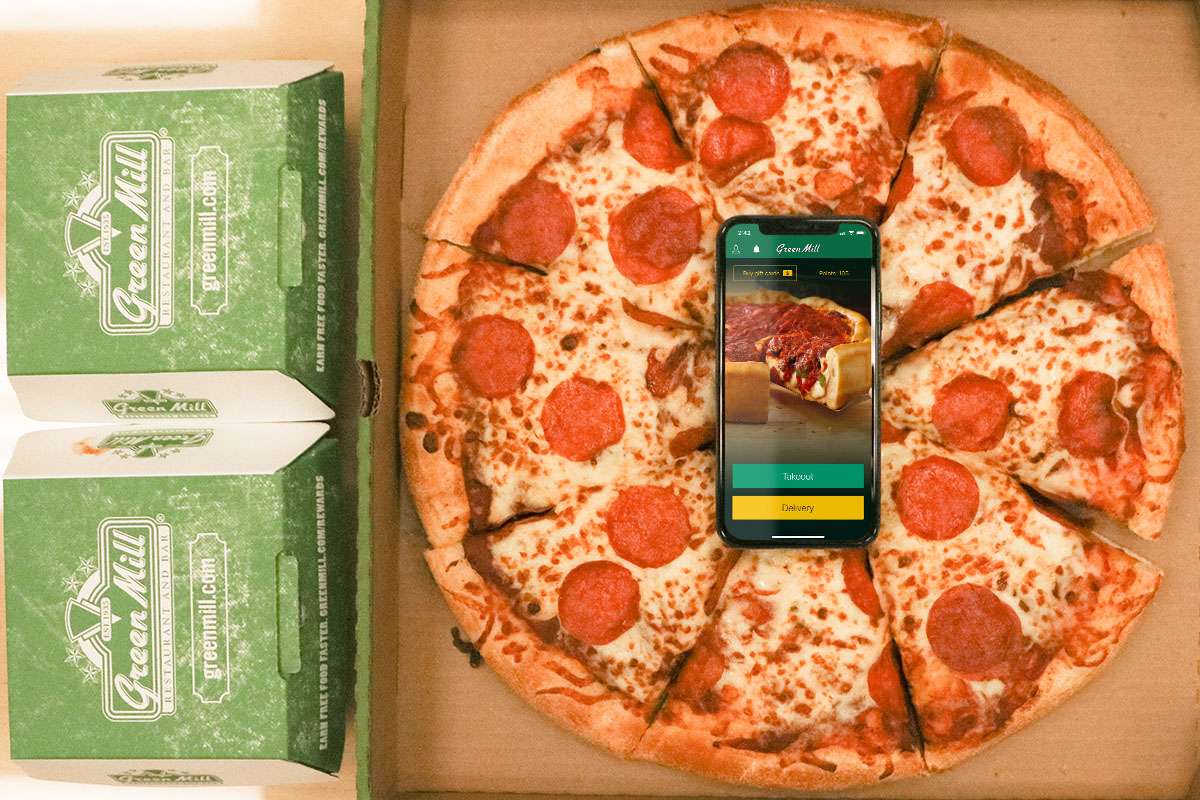 "Whenever you're able to find somebody like JMG who's good at what they do and in love with what they do, it's usually a pretty good combo for success when you're trying to outsource something that your company is unable to do itself."
Results
The app adds another touchpoint for Green Mill's customer base, which has resulted in increased sales and brand awareness.
"Because the app is easy to use, our guests love it," said Hinz. "They love having another easy way to order and be a part of our brand, which helps from a sales standpoint."
With indoor dining services closed or limited as a result of COVID-19, Green Mill experienced a sharp increase in online orders. JMG worked hand-in-hand with Green Mill and their other vendors to make sure the app scaled to support the influx in online orders.
"The app has held up great to increased usage. But no matter what, an app is never finished. There's always something to modify, tweaks to make it better, and we continue to work with JMG on these things when necessary."